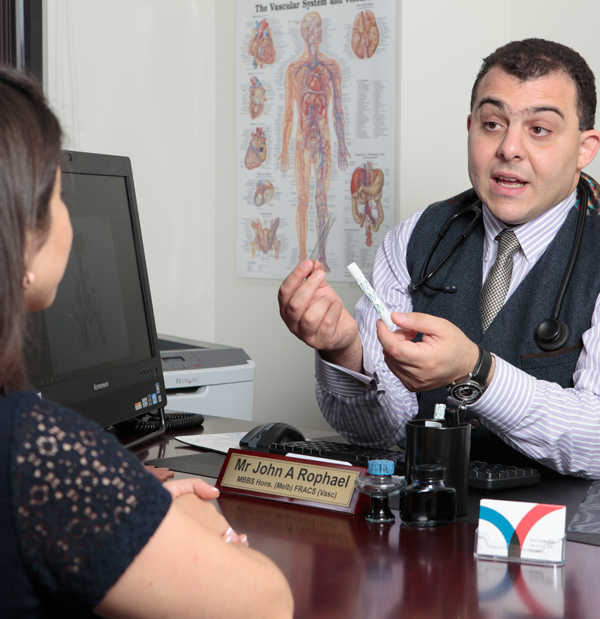 Initial Consultation
Your initial consultation will be held at either our main office located at Victorian Vascular Clinic Ivanhoe, Bendigo Day Surgery, Wyndham House Clinic Shepparton or The Garden's Medical Centre in Albury.
All correspondence is to be sent to Victorian Vascular Clinic Ivanhoe rooms.
Appointments
All appointments are made by calling our main office in Ivanhoe. Ivanhoe number: 03 9894 5886
You will receive a confirmation letter or phone call.
You Will Need
Please ensure that you bring the following to your appointment:
GP referral letter. We would be grateful if you could send us a copy of your referral letter prior to your appointment.
Medicare card.
Any results that you have, that may be relevant to your consultation.
A list of all current medications.
Veterans Affair, Health Insurance, Pension/Health Care Card if applicable.
A list of any questions you may have.
Day of Consultation
On arrival at VVC our receptionist will ask you to fill in a registration form.
Our ultrasound sonographers may complete non-invasive testing to assess and investigate the health of your veins.
This will then be followed by a thorough assessment and consultation with Mr. Rophael who will recommend the best course of treatment for your vascular or arterial conditions.
You will have plenty of time to discuss any questions that you may have and Mr. Rophael ensures all his patients leave, with not only a good understanding but also an agreed treatment plan for their condition.
Following your appointment, further testing or specific treatments will be arranged for you by our pleasant reception staff.